I was quite surprised Google didn't launch the
Nexus One
as a free product. I know it's a very high end and expensive product, but just think of all the data they will get from people using the smart phone.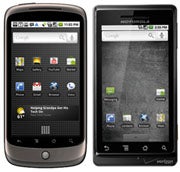 As well as the detailed browsing habits they get from their usual business model, the Nexus One with GPS and loaded with all the Google apps, will give Google huge amounts of data on browsing habits of people on the move. Google will be able to see when people email, where they are when they do it, when and where they use Google maps, when and where they make calls, etc.
I reckon large amounts of this kind of data would be much more valuable that the $500 dollars they will get for each phone. With such a high price tag, the danger is fewer people will adopt the phone and so provide less data. If it was free, swathes of people would sign up and give Google shedloads of valuable data.
On a separate train of thought, I wonder if it will turn out to be ironic that Google named it's first phone after a series of
Replicants
with a short, pre-programmed lifespan.